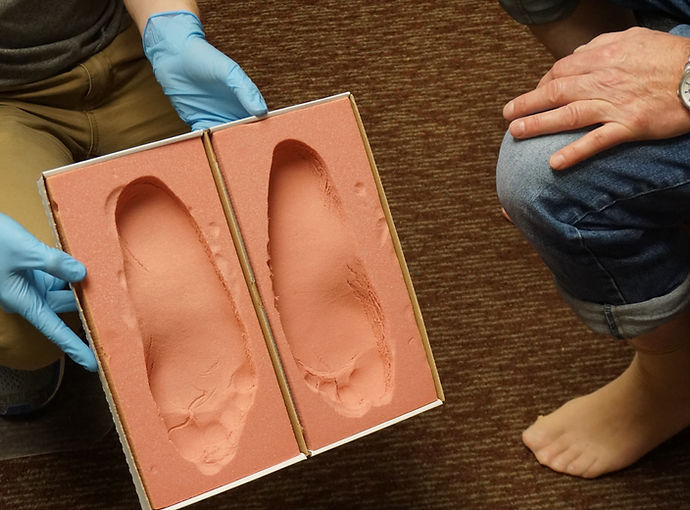 Custom Made Orthotics
Improve your quality of life now and get a pair of custom orthotics completely made in house.
Call us at (780) 437-7604 to make an appointment
Call and Book a Free Assessment Now
We specialize in, Custom Made Orthotics, Build Ups, Therapeutic Footwear and Met Pads. All of these services require an appointment and a prescription from a healthcare provider.
Please call our store within business hours and we will make an appointment with Lennard Grove our Certified Orthopedic Footwear Specialist with 30 years' experience.
For more information on these services please see the drop down menu below or visit our videos page from the Pedorthic Association of Canada. 
Collapsible content
Orthotics

After you have made an appointment either by phone or in person with your prescription in hand, our Certified Orthopedic Footwear Specialist or Pedorthist will do an assessment. They will do a gait analysis, take an imprint and custom mold of your foot. Typically two weeks following your initial appointment the orthotics will be checked for proper fitting to your feet and your footwear.
Build Ups

We specialize in custom made lifts or shoe build ups that are added to a shoe or boot to lift the affected leg to it's prescribed height. Lifts or buildups are for persons that have a leg length discrepancy. They are made to lift and realign which will in turn promote a smoother gait. They will help you select footwear that can be modified to fit a lift or build up.
Metatarsal Pads

Metatarsal pads are usually prescribed for planter pressure and also to help treat the feeling of burning feet. Met pads help to off the pressure from the metatarsal heads also adding quick propulsion from end of the metatarsals. We Suggest that you make an appointment after you have received your prescription. Our Certified Orthopedic Footwear Specialist will measure your feet and make sure that the pads are placed in the correct possition in your shoe.
Therapeutic Shoes

Our collection of Therapeutic shoes meets the needs of our customer with precriptions requiring footwear with a specific list of requirments. Some of the requirments include removable foot beds, deep/broad toe boxes, firm heel counters and availability in wide widths and sizes that are not readily available elsewhere. Our sales staff are completely trained in shoe fittings